Wild Outdoor Apparel Legendary Forest Ape Waxed Shacket - Men's, Autumn Plaid, Small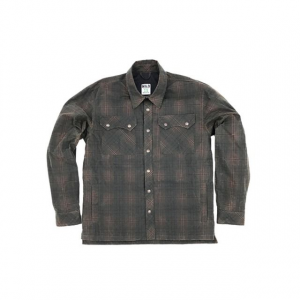 Wild Outdoor Apparel Legendary Forest Ape Waxed Shacket - Men's Autumn Plaid Small. Made of weatherproof heavy duty waxed cotton canvas the shacket performs like a jacket but has the easy going appearance of a shirt. Lined with a wool flannel yoke and 88g of Polartec Alpha Insulation the Legendary Forest Ape will keep you just the right temperature when hiking the woods looking for BigFoot. Two snap closed chest pockets are shirt inspired and rounding out the jacket part are two comfortably placed and flannel lined hand pockets. There is a 1 drop tail and a split hem for ...
Buy Now
$348.00
Related Products
Grab a brew at the Drunken Yeti! The Drunken Yeti is the perfect bar to visit because come on now, who doesn't love a drunken Yeti? Or even a drunken gummi Yeti. those are delicious, or so we've heard. We recommend rocking this vintage bar tee as soon as possible. Have you tried a Crazy Dog T-shirt yet? Just Wait until you slip on one of these super soft tees. You'll instantly fall in love! Not only are they printed on super soft cotton but the tees fit great too. Try one and you won't go anywhere else! With over 900 designs Crazy Dog is the online destination for your favorite tees. Many of our designs are available in mens, womens, and youth sizes and come in a variety of different colors. Check our store to see them all!
Bigfoot Meditating Yoga Lotus Pose. Men's White T-shirt
I BELEIVE THERES A SQUATCH IN THESE WOODS FINDING BIGFOOT YET - design printed onto the highest quality fashion white tee shirt for men. Printed on 100% Ring-Spun Cotton and printed with water-based inks for ultra-softness. Euro style fit in neck shoulders and sleeves, Double needle sleeves and bottom hem. These shirts are comfortable, durable and super-soft 4oz cotton!