Handmade Set of Two White Yeti Holiday Ornaments (Nepal) (Set of Two White Yeti Ornaments)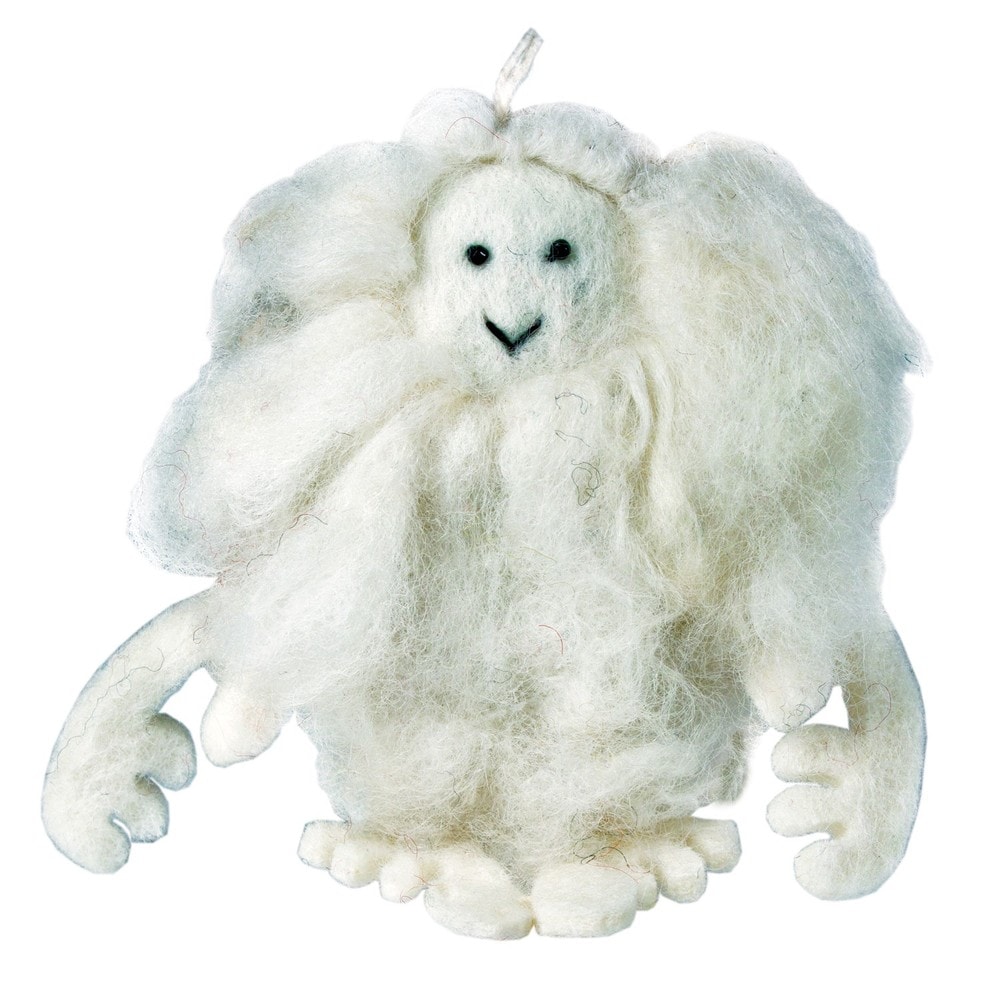 Handmade Set of Two White Yeti Holiday Ornaments (Nepal) (Set of Two White Yeti Ornaments). These 5 inch tall holiday ornaments are made from 100-percent natural wool and non-toxic, azo-free dyes. Sold in a set of two. Worldstock Country: Nepal Accent Type: Handmade Ornaments Material: Wool Season or Holiday: Christmas Setting: Indoor Color: White Story Behind the Art: Walking into dZi's Kathmandu production center's reception, you are immediately greeted by a cheerful 'Namaste.' ('I Salute the God Within You') with hands pressed together in a prayerful expression. Proceeding into any of the production halls you'...
Buy Now
$25.99
Related Products
Abominable Snowman Yeti Hanging Glass Christmas Tree Ornament (White). Your tree with be anything but abominable with this darling white yeti ornament. Coming ready to hang with a silver cord, our 4.75-inch abominable snowman ornament is crafted of glass and resin and accented with sparkling iridescent glitter accents. Your special science fiction fan will love to find this legendary abominable snowman wandering through the branches of his or her tree. . Features: State: New York Setting: Indoors Color options: White Materials: Glass Resin Dimensions: 4 inches About the Manufacturer: The concept to put together MyPartyShirt came to us in early 2005. We grew tired of seeing so much of the population wearing the same type of clothing. We had enough of the overpriced name brand style that had been going on for years. So we decided to create a store that would offer something different. Something that people would find to be both unique and enjoyable. We hope you like what you see. If you do, then be sure to tell your friends about us and have them join in on the party.
Bigfoot In Shades Bigfoot or Sasquatch is pictured in style wearing sunglasses Ornament is measuring 3 -Inch. This Glossy Porcelain Snowflake Ornament is perfect gift for grandparents, aunts, uncles and friends. Commemorate each holiday season with a new ornament. Image is printed on both sides. Comes with the gold hanging cord.
Our legendary yeti makes a holiday appearance, decked out with all the trimmings! Undetected and unknown for centuries, Bigfoot is now the inspiration for this collectible, 2010-edition holiday ornament. Makes a one-of-a-kind holiday tree ornament, mythical stocking stuffer, package tie-on, or creative addition to your Bigfoot collection. Cast in hand-painted quality designer resin. Dimensions: 3" (H).
Comments
comments