The Curse Of Bigfoot (1976) / Cathy's Curse (1977)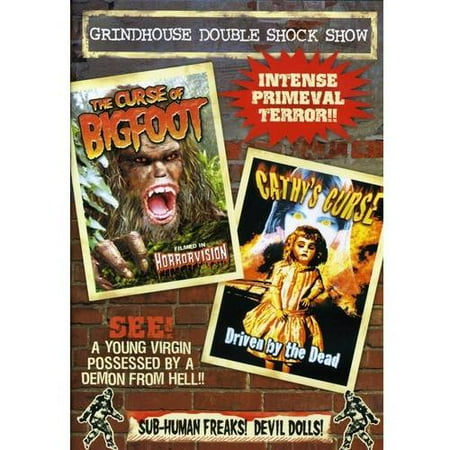 A team of students search for a sub-human prehistoric creature. A child's toy imparts telekinetic power to a little girl.
Buy Now
$5.98
Related Products
CafePress brings your passions to life with the perfect item for every occasion. With thousands of designs to choose from, you are certain to find the unique item you've been seeking. This 100% cotton short-sleeve toddler t-shirt features a comfortable crew neck and quality construction, making it the perfect graphic tee gift for your special kiddo. The soft fabric looks as good as it feels, and it is durable for everyday wear. Our cute, funny, and unique designs are printed professionally, and make great novelty gifts for boys and girls. And with CafePress, your satisfaction is always our promise. buy with confidence, as we offer easy returns and exchanges and a 100% money back guarantee. CAFEPRESS DOES NOT OFFER PRODUCTS IN THE CATEGORIES OF ROBES, PAJAMAS OR LOUNGEWEAR INTENDED FOR USE BY INDIVIDUALS UNDER THE AGE OF 12. THIS PRODUCT IS NOT INTENDED FOR SUCH USE.
You could search for Bigfoot by just randomly walking around in the forest screaming "Bigfoot" at the top of your lungs or you could use science! Our Bigfoot Research Kit contains items that easily double (maybe triple!) your chances of finding Bigfoot. Probably the most helpful advice is in the included informational booklet. It lets you in on the secret that Bigfoot is an introvert, so he's cool if you're mellow, but don't come on all harsh and huggy. So, how do you approach Bigfoot? You have to buy this kit to find out! This will make your inner 10-year-old, or an actual 10-year-old, very happy.
Windsor Designs big foot brown bear plush toy makes a perfect gift for any occasion, adorable nursery decor, children's bedroom decorations and collectible keepsake.
Comments
comments