Bigfoot Playing Cards, Card Games by NMR Calendars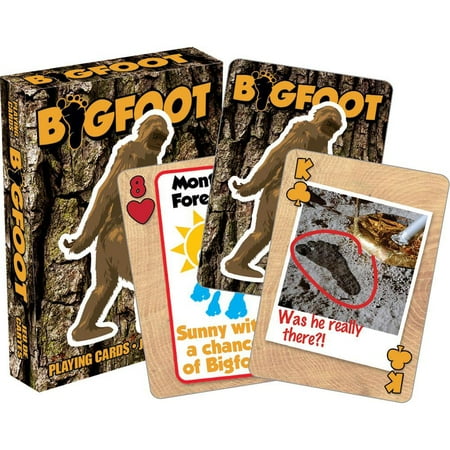 Bigfoot Playing Cards: Signs of the elusive Bigfoot are on every one of these cards in this fun deck! Perfect for playing all of your favorite games with a Bigfoot twist. Signs of Bigfoot on every cardCards are high quality and durablePerfect for playing all your favorite ...
Buy Now
$7.49
Related Products
Awww! Who can resist the cute little Yeti in its shipping crate? All the way from the Himalaya Mountains of Tibet, this Abominable -- er, we mean Adorable -- Snowman needs rescuing now!Box measures 3-1/2'' wide x 3-1/2'' high x 1-5/8'' deep. Yeti's head peeks out of box top.Kit contains plush orphan Yeti in box, plus 16-page Caregiver's Manual with Passport, Medical Record, and Adoption Certificate.The perfect little holiday gift!Feel the love!Warning: Choking hazard, small parts. Not for children under 3 years.
Roari Snow - Abominable Snowbaby (Limited Availability) Endearing and horribly wild... Roari never sits still, bounding with horrific ape-like agility and strength! If you love never-ending physical activity such as running for your life, then you will know true delight and endless dismay when you invite this hyperactive baby into your home. Your Warning: She wants to be the center of attention and you had best make sure she is. We have no idea of any means to pacify her since there have been no survivors of an Abominable Snowbaby rampage. The Gloomvanian Adoption Center will only be releasing a small number of babies into the mortal world. The management takes no responsibility for any mayhem and destruction caused by your baby, and suggests strongly that you do not adopt one. You have been warned. Roari Snow is 8.5 inches tall.
ITEM DESCRIPTIONS/INFORMATION:Title:10" Bigfoot Sasquatch Plush Stuffed Toy - NewConditon:Brand New.Details:Each item may vary slightly from above photographMeasures 10" (Sizes are approximate.)Great item for a gift.Perfect for Collectors.Manufacturers suggested age 3+All items are of high quality.SHIPPING INFORMATION:Processing Time:Orders are packed and shipped within 24 hours.Standard Shipping:Most orders are mailed through first class priority mail.(few exceptions.) and are usually delivered within 2-4 business days.Combine Shipping: We do offer combined shipping. Each order using combined shipping will have the highest shipping cost item plus each additional item will be $1.75. For large orders please email or message for combined shipping cost. (As there may be shipping discounts offered.)International Shipping: Please Message For Quotes.EXCHANGES/RETURNS INFORMATION:Any items being exchanged/returned must be received back in a condition where it can be resold. (Tags attached, ect.)Buyers who would like to return items are responsible for return shipping as well as original shipping cost.We are not held responsible for packages that are lost or returned to sender due to incorrectly typed addresses.All damage claims must be reported with 72 hours of delivery.
Comments
comments