SOCK IT TO ME Sasquatch Crews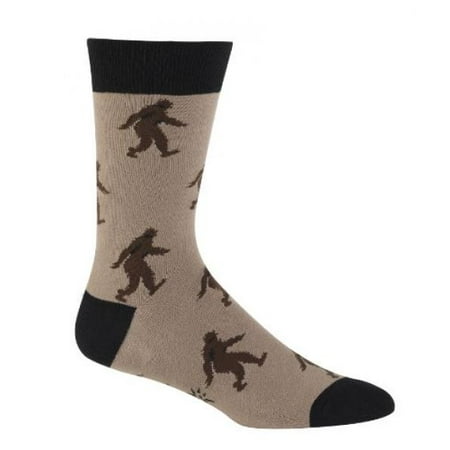 Sitting in the woods very quietly, barely breathing. we had a bigfoot sighting. (He looked exactly like this) 75% cotton, 20% polyester, 5% spandex. Made in Korea. Approximately fits men's shoe size 7-13.
Buy Now
$11.50
Related Products
CAN'T DECIDE BETWEEN A YETI SOCK AND A BIGFOOT SOCK, WELL THEN GET BOTH IN THE STANCE BIG VS YETI CREW SOCK This perfect match of equal parts yeti equal parts bigfoot is sure to be just what you believers are looking for. Wear these socks on your next bigfoot/yeti hunt and see the similarities between the socks and real creatures. A seamless toe box allows you to search all day and not feel those pesky seams start blisters on your feet and furthermore the polyester blend on foot keeps the sweat out, so what are you waiting for get out and start hunting. FEATURESSeamless construction Terry looped foot heal and toe for extra cushion TECH SPECSSupport: left and right specific arch support
Sitting idly in the woods, barely breathing, senses frenzied, we had a bigfoot sighting. Apathetic, yet brazen; he looked exactly like this. These furry crews are made in Korea from 59% cotton, 39% polyester, 2% spandex. Men's size 7 - 13, approximately.
Made from turbowool -- a superior blend of 50% merino wool and 50% polypropylene. This blend is 5 times the strength and durability of merino wool alone. Shrink-resistant and itch-free our wool socks will keep your feet drier and provide excellent insulation in all weather conditions
Comments
comments