Bigfoot Christmas Tree Ornament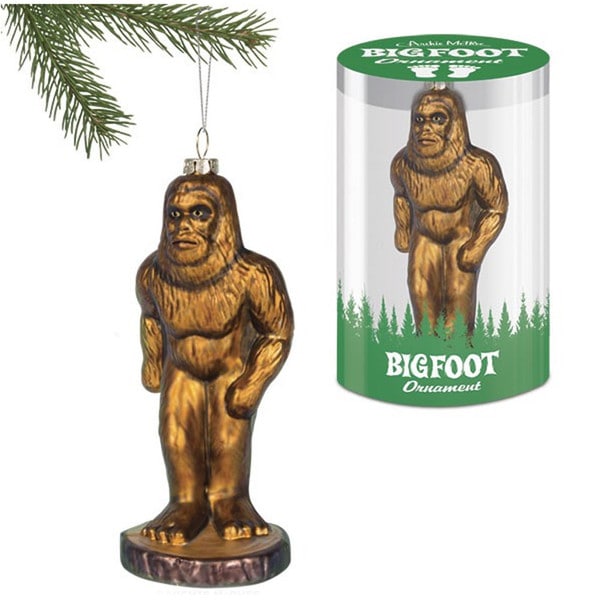 Beautifully sculpted to look like the hairy forest dweller, this Bigfoot ornament includes a string for hanging but can also stand alone. Start a new tradition by hiding this elusive creature in your tree and offering a prize to whomever finds him first. . Features: State: New York Setting: Indoors Color options: Brown Materials: Glass Dimensions: 6.25 inches tall About the Manufacturer: The concept to put together MyPartyShirt came to us in early 2005. We grew tired of seeing so much of the population wearing the same type of clothing. We had enough of the overpriced name brand style that ...
Buy Now
$19.79
Related Products
CafePress brings your passions to life with the perfect item for every occasion. With thousands of designs to choose from, you are certain to find the unique item you've been seeking. This high quality porcelain ornament is lightweight for hanging as a tree ornament, and looks great with the professionally printed design. Our Christmas ornaments make the perfect gift for baby showers, wedding gifts, and Christmas, or you can use them as home and office decorations. Each holiday ornament also comes with its own festive red ribbon. And with CafePress, your satisfaction is always our promise...buy with confidence, as we offer easy returns and exchanges and a 100% money back guarantee.
Everyone knows what a centaur is, but this Christmas get to know Santaur. Santaur is a bare-chested, half-horse half-Santa who brings presents to all the good children and he doesn't need any stupid reindeer to do it! This 6" (15.2 cm) tall glass ornament is a sure-fire attention getter during any holiday get together. It can hang by the included string or stand on its own in the middle of the dinner table as a centerpiece. On Christmas Eve, don't leave Santa milk and cookies, leave Santaur a carrot and a sugar cube.
SMELLS WAY BETTER THAN THE ACTUAL BIGFOOT People who live in the Pacific Northwest have a secret - we've all smelled Bigfoot and he's incredibly rank. So, the genuinely pleasing pine odor of this 5" (12.7 cm) tall Bigfoot Air Freshener should come as a pleasant surprise. Perfect for car, home, tent, camper or trailer - Great for camping!
Comments
comments