Abominable Snowman Yeti Hanging Glass Christmas Tree Ornament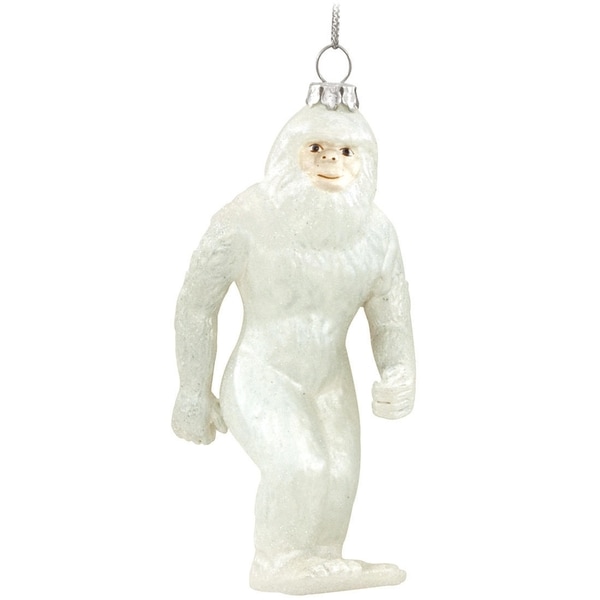 Your tree with be anything but abominable with this darling white yeti ornament. Coming ready to hang with a silver cord, our 4.75-inch abominable snowman ornament is crafted of glass and resin and accented with sparkling iridescent glitter accents. Your special science fiction fan will love to find this legendary abominable snowman wandering through the branches of his or her tree. . Features: State: New York Setting: Indoors Color options: White Materials: Glass Resin Dimensions: 4 inches About the Manufacturer: The concept to put together MyPartyShirt came to us in early 2005. We grew tired of seeing so much ...
Buy Now
$15.89
Related Products
Bigfoot In Shades Bigfoot or Sasquatch is pictured in style wearing sunglasses Ornament is measuring 3 -Inch. This Glossy Porcelain Snowflake Ornament is perfect gift for grandparents, aunts, uncles and friends. Commemorate each holiday season with a new ornament. Image is printed on both sides. Comes with the gold hanging cord.
SMELLS WAY BETTER THAN THE ACTUAL BIGFOOT People who live in the Pacific Northwest have a secret - we've all smelled Bigfoot and he's incredibly rank. So, the genuinely pleasing pine odor of this 5" (12.7 cm) tall Bigfoot Air Freshener should come as a pleasant surprise. Perfect for car, home, tent, camper or trailer - Great for camping!
Our legendary yeti makes a holiday appearance, decked out with all the trimmings! Undetected and unknown for centuries, Bigfoot is now the inspiration for this collectible, 2010-edition holiday ornament. Makes a one-of-a-kind holiday tree ornament, mythical stocking stuffer, package tie-on, or creative addition to your Bigfoot collection. Cast in hand-painted quality designer resin. Dimensions: 3" (H).
Comments
comments