Yeti Ugly Christmas Sweater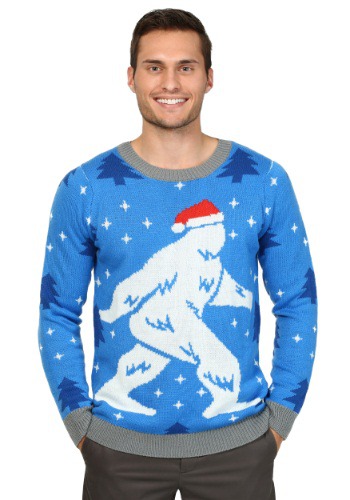 Bigfoot prefers to stay out of sight, but as rumor has it, your best chance for a sighting is actually on Christmas Eve. Why, you ask? Well you see, sasquatches (sasquatchi?) have a this pretty lucrative side gig working for ole' Saint Nick. While he's busy hopping from roof to roof in the big cities, the Christmas Yeti is more than happy to gather and deliver presents to all the kids in rural destinations...especially out west. Oregon, Washington, you know you've glimpsed the Christmas Yeti from time to time. Why not grab this fun Christmas sweater to ...
Buy Now
$39.99
Related Products
It's the most feared imaginary creature there is! The wild yeti! Have you tried a Crazy Dog T-shirt yet? Just Wait until you slip on one of these super soft tees. You'll instantly fall in love! Not only are they printed on super soft cotton but the tees fit great too. Try one and you won't go anywhere else! With over 900 designs Crazy Dog is the online destination for your favorite tees. Many of our designs are available in mens, womens, and youth sizes and come in a variety of different colors. Check our store to see them all!
Kids these days, they just don't scare like they used to.Maybe that is a good thing. We hear that laughter is 10 times more potent than screams. And it's just not nice to scare small children. Take their candy? Yes. Scare them until they scream so loud that a canister is filled to power electricity in Monstropolis? Not cool man.Mike Wazowski, is just a young buck who wants to be like Scarer Frank McCay. He doesn't know that laughter is more powerful than screams, not yet anyway. One day, years after he is told he will never be a Scarer, he, and his best friend Sulley will discover the power of laughter. But first he has to make it through Monsters University. And with enemies like Randall Boggs it is going to be a tough ride.When you put on this Monsters Inc Deluxe Adult Mike Costume, get ready to feel like an awkward teen again. You'll have a contact lens as large as a pizza, and a retainer. But don't worry, with your can do attitude, and a friend like James P. Sullivan, you will be able to do anything you set your mind to. And discover a few new things along the way. Plus you will end up with the prettiest girl with snakes for hair that you have ever seen. Oh, Celia you vixen. And through your adventures you will become friends with the Abominable Snowman. So don't worry if you get told 'you can't', because you will do amazing things.
Our adult Big Foot costume includes the fur bodysuit, mask with hair, hands and feet. The bigfoot halloween costume comes in adult size One Size. Please note: This item's color may vary due to inherent manufacturing variations or your computer monitor's color settings. The item you receive will be identical or substantially similar to the item pictured in this listing.
Comments
comments