Yeti Ugly Christmas Sweater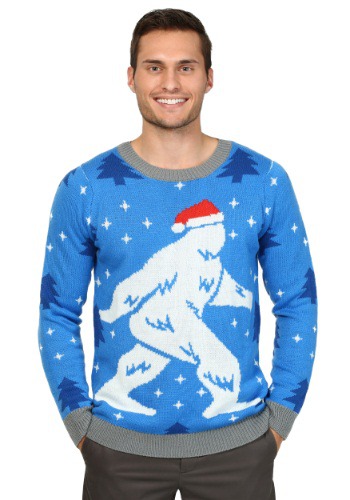 Bigfoot prefers to stay out of sight, but as rumor has it, your best chance for a sighting is actually on Christmas Eve. Why, you ask? Well you see, sasquatches (sasquatchi?) have a this pretty lucrative side gig working for ole' Saint Nick. While he's busy hopping from roof to roof in the big cities, the Christmas Yeti is more than happy to gather and deliver presents to all the kids in rural destinations...especially out west. Oregon, Washington, you know you've glimpsed the Christmas Yeti from time to time. Why not grab this fun Christmas sweater to ...
Buy Now
$39.99
Related Products
Quality Yeti costume with long fangs, over the head latex mask, matching cloth suit, latex hands and feet. One size fits most adults.
May the best monster win!Before he was promoted to the number one scarer at Monsters, Inc.,...before he went to Monster University to learn the ropes...before he met his friend Mike and his rival Randall and his little friend Boo...before he came across the Yeti...before he ever burst through a door and made a kid scream to create electricity in Monstropolis...Sully was a baby monster. Yep, a cute little giggling infant monster being raised by his proud monster mom and dad. Hey, even the biggest monsters have to start somewhere! What? Are you having trouble picturing Sulley as a baby? Well, this will help you. Just take one look our Sulley Classic Infant Costume, officially licensed from Disney! It'll turn your little one into the perfect monster-in-training this Halloween. The costume is plush and fuzzy and oh-so-soft and it's the same turquoise blue as Sulley's fur when he's grown up. Except where the grown up Sully has big purple splotches and magnificent purple horns, this costume has teeny tiny purple dots little purple horns just starting to peek out. Yep, we told you monsters started out as babies! And that Sulley tail! Attach the tail to the costume with Velcro, and your little one will love swinging it around and making the other kids scream - and end up laughing. All you need to do is pull on the matching footies with cute little brown claws, and you've got an adorable baby monster ready to scare up some treats this Halloween!
Custom printed 100% Cotton Hanes tagless tee made in USA. These shirts are printed exclusively in our Kentucky facility. Each item is made to order.
Comments
comments