Yeti Ugly Christmas Sweater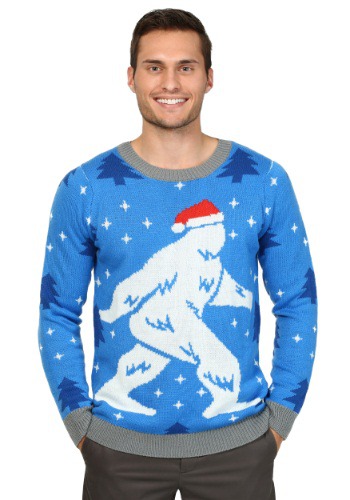 Bigfoot prefers to stay out of sight, but as rumor has it, your best chance for a sighting is actually on Christmas Eve. Why, you ask? Well you see, sasquatches (sasquatchi?) have a this pretty lucrative side gig working for ole' Saint Nick. While he's busy hopping from roof to roof in the big cities, the Christmas Yeti is more than happy to gather and deliver presents to all the kids in rural destinations...especially out west. Oregon, Washington, you know you've glimpsed the Christmas Yeti from time to time. Why not grab this fun Christmas sweater to ...
Buy Now
$39.99
Related Products
He really does exist! Deluxe Sasquatch full costume includes fur suit, comfortable fur covered latex hands and feet, and over-the-head latex mask with movable jaw. One size fits most Teens 38-40, height 5ft 10in, 180lbs. Width: Height: Length:
Are you a big foot believer? Well, let's hope you are because according to our extensive research (a full half hour of getting side tracked on the world wide web) if you're not a believer then you're more likely to have a sometimes violent, usually frightening, and always ostracizing encounter with this woodland beast.Now, whatever you do, don't get this guy mixed up with the Yeti, that'll really make him angry and you'd better be sure you have enough beef jerky to placate him! For one, the Yeti lives all the way over in the Himalayas, a Yeti and Sasquatch have probably never even met before. Our Bigfoot likes warmer climates. It's been seen across rural America wandering next to the highway and through the woods by all sorts of people. The internet is full of accounts told by people from all walks of life telling their Bigfoot stories. There's even one about a police officer spotting one at the side of the road. Say what you will about hoaxes but in our humble opinion, all these witnesses can't be delusional!The most likely solution? Bigfoot is likely a customer of ours, wearing one of our quality costumes! Sure, it takes a lot of commitment to wander around in hopes that someone might spot you but everyone ought to have a hobby. In this furry jumpsuit, you would definitely stop traffic and drop jaws with the muscly chest, oversized paws, and believable mask. We do want to note that there's a lot of folks out there with gun sights aimed, ready to take a bigfoot down, so we really don't recommend wearing this costume out in the woods. It's a much better idea to wear this costume to make sure you win at that costume party you're headed to! 15 minutes of fame? Nah, you're going down in history with this bigfoot costume!
You've probably heard the rumors that yeti and Sasquatch walk among us. You probably even shrugged them off as nonsense grocery aisle tabloid fodder. Well, we're here to tell you that you were wrong. The abominable snowman walks among us! He's out there right now, kidnapping elves on the north pole and holding them hostage in little cages for his own unknown purposes. So, beware this Halloween, because one minute you're a free and happy elf, and the next minute BOOM you're off to a cave somewhere with a silent and scary yeti. Or so you can tell everyone that's what happened when you wear this hilarious and ingenious Snowman costume.
Comments
comments