Yeti Ugly Christmas Sweater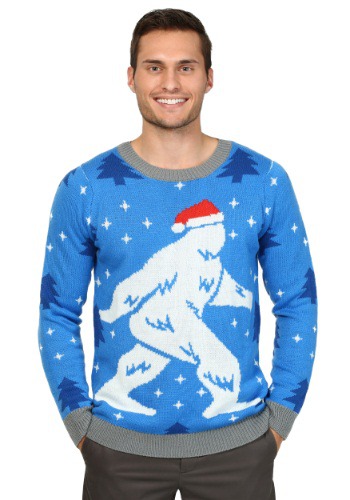 Bigfoot prefers to stay out of sight, but as rumor has it, your best chance for a sighting is actually on Christmas Eve. Why, you ask? Well you see, sasquatches (sasquatchi?) have a this pretty lucrative side gig working for ole' Saint Nick. While he's busy hopping from roof to roof in the big cities, the Christmas Yeti is more than happy to gather and deliver presents to all the kids in rural destinations...especially out west. Oregon, Washington, you know you've glimpsed the Christmas Yeti from time to time. Why not grab this fun Christmas sweater to ...
Buy Now
$39.99
Related Products
Try out this awesome sasquatch Halloween costume, printed on a high-quality cotton and polyester men's T-shirt.
This year you can be the most feared imaginary creature there is. the yeti! Simply flip this tee over your head and you are a monster! Have you tried a Crazy Dog T-shirt yet? Just Wait until you slip on one of these super soft tees. You'll instantly fall in love! Not only are they printed on super soft cotton but the tees fit great too. Try one and you won't go anywhere else! With over 900 designs Crazy Dog is the online destination for your favorite tees. Many of our designs are available in mens, womens, and youth sizes and come in a variety of different colors. Check our store to see them all!
Bigfoot. Sasquatch. Yeti. The mysterious creature has many names, but everyone knows who they're talking about. Some people spend their whole lives trying to prove the big guy's existence, but it's so much easier just to dress up as them in this Bigfoot Plus Size Costume! Putting yourself in Bigfoot's shoes (which must be huge) might actually be the best way to track him down. Has anyone even tried that before? After a couple weeks of hanging out in the woods in this costume, eating nuts and berries, with just the squirrels and birds to keep you company, you'll start thinking like Bigfoot, and then you'll know exactly where to look for him. Actually, wait... that's a terrible idea, and we're not just saying that so no one beats us to it. Running around the woods in a big, furry bodysuit sounds like a great way to be mistaken for an animal by some hunters, and it also sounds like a foolproof method for smelling like a bag of soggy laundry. If we still aren't convincing you it's a bad idea, though, just remember to wear a bright orange vest and plenty of deodorant, even if it's not the Sasquatch way.The other reason why you'll have to be careful when wearing this costume is because once you slip into the furry jumpsuit, gloves and full head mask, you'll be the spitting image of the mythical monster-man. It's really best just to wear this in well-lit, developed areas, where nobody will mistake you for a bonafide yeti and take blurry pictures of you, which we're told are called pictures of "blobsquatches." You don't want to be the next blobsquatch, do ya?
Comments
comments