Yeti Ugly Christmas Sweater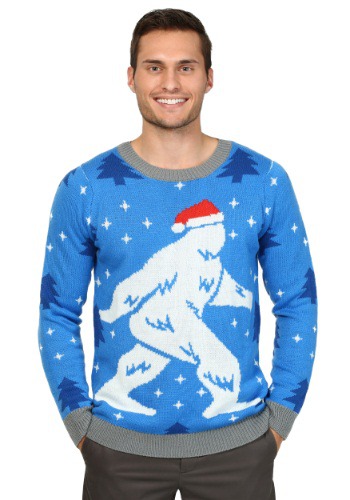 Bigfoot prefers to stay out of sight, but as rumor has it, your best chance for a sighting is actually on Christmas Eve. Why, you ask? Well you see, sasquatches (sasquatchi?) have a this pretty lucrative side gig working for ole' Saint Nick. While he's busy hopping from roof to roof in the big cities, the Christmas Yeti is more than happy to gather and deliver presents to all the kids in rural destinations...especially out west. Oregon, Washington, you know you've glimpsed the Christmas Yeti from time to time. Why not grab this fun Christmas sweater to ...
Buy Now
$39.99
Related Products
It's the most feared imaginary creature there is. The wild yeti. Why Choose a Crazy Dog T-shirt. We have searched far and wide for the perfect t shirts for our fans and customers. We believe in making a t-shirt you actually want to wear. You'll notice the quality right when you put it on. All of our tees are screen printed in the U.S. We pride ourselves in high quality and want our t-shirts to be the first out of your drawer every time. The t-shirts have been so popular due to our ultra soft fabric, great fit and awesome designs that we now employ nearly 25 people. We are still a family run business and aim to make sure the customer loves our products as much as we do. When you receive your item, please take a moment to verify that it was not damaged in transit. If there is any reason that you wouldn't rate this as a 5-star experience, please let us know right away and we'll do what we can to make it right. If everything looks fine, we'd appreciate it if you could rate this transaction as your feedback helps our family owned business grow. Worldstock Country: USA Type: Casual Material: Cotton Pattern: Graphic Neck Style: Round Neck Size: XXL, S, L, 5XL, 3XL, M, 4XL, XL Color: Grey Measurement Guide Click here to view our Men's Sizing Guide All measurements are approximate and may vary by size.
It's the most feared imaginary creature there is! The wild yeti! Have you tried a Crazy Dog T-shirt yet? Just Wait until you slip on one of these super soft tees. You'll instantly fall in love! Not only are they printed on super soft cotton but the tees fit great too. Try one and you won't go anywhere else! With over 900 designs Crazy Dog is the online destination for your favorite tees. Many of our designs are available in mens, womens, and youth sizes and come in a variety of different colors. Check our store to see them all!
Make your infant have an "ice day" with this Snow Beastie Infant Costume! Sure, there are monster costumes out there that might sound scary or horrifying, but not this one. Specifically manufactured for infants, this outfit turns your little one into a cute and adorable snow monster. Whether this beast is the Yeti, or any other mythological creature, the cuteness factor is through the roof! Nothing to fear, only to go "awe" as you take your infant trick-or-treating this Halloween. Costume includes hooded tunic and footwear, from polyester.
Comments
comments