Yeti Ugly Christmas Sweater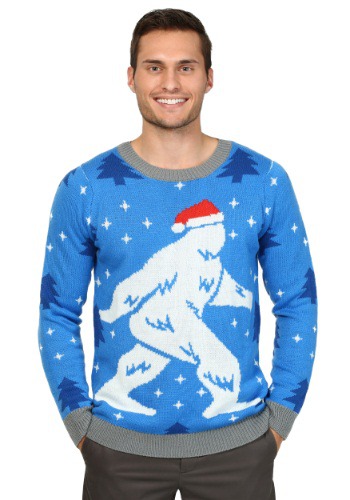 Bigfoot prefers to stay out of sight, but as rumor has it, your best chance for a sighting is actually on Christmas Eve. Why, you ask? Well you see, sasquatches (sasquatchi?) have a this pretty lucrative side gig working for ole' Saint Nick. While he's busy hopping from roof to roof in the big cities, the Christmas Yeti is more than happy to gather and deliver presents to all the kids in rural destinations...especially out west. Oregon, Washington, you know you've glimpsed the Christmas Yeti from time to time. Why not grab this fun Christmas sweater to ...
Buy Now
$39.99
Related Products
Feeling abominable? Show it off with this white t-shirt, featuring a yeti costume print on the front. 100% cotton.
Make the Abominable Snowman the Adorable Snowman. This fuzzy, white costume will make your little one look as feroocious as they are cute. Watch them climb up and down the Himalayas. This is a great winter outfit for your child. Order a Baby Toddler Cutie Yeti Costume online today from Costume SuperCenter!
Custom printed 50% polyester hoodie. Printed in vivid high resolution using our proprietary color transfer technology in the USA. Guaranteed to last through hundreds of washes. Support independent designers through Teespring's product development platform. 100% satisfaction guarantee, 30-day no-risk return policy backed by our live customer service team. Each item is made to order.
Comments
comments