Yeti Ugly Christmas Sweater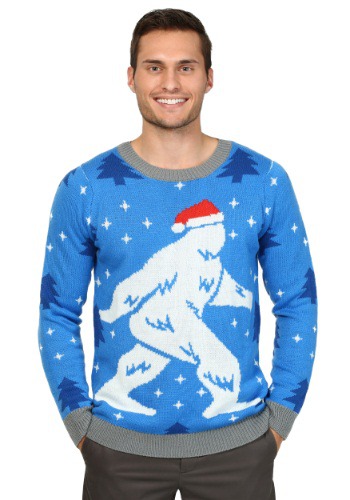 Bigfoot prefers to stay out of sight, but as rumor has it, your best chance for a sighting is actually on Christmas Eve. Why, you ask? Well you see, sasquatches (sasquatchi?) have a this pretty lucrative side gig working for ole' Saint Nick. While he's busy hopping from roof to roof in the big cities, the Christmas Yeti is more than happy to gather and deliver presents to all the kids in rural destinations...especially out west. Oregon, Washington, you know you've glimpsed the Christmas Yeti from time to time. Why not grab this fun Christmas sweater to ...
Buy Now
$39.99
Related Products
Make your toddler have an "ice day" with this Snow Beastie Toddler Costume! Sure, there are monster costumes out there that might sound scary or horrifying, but not this one. Specifically manufactured for toddlers, this outfit turns your little one into a cute and adorable snow monster. Whether this beast is the Yeti, or any other mythological creature, the cuteness factor is through the roof! Nothing to fear, only to go "awe" as you take your child trick-or-treating this Halloween. Costume includes hooded tunic and footwear, from polyester.
Try out this awesome sasquatch Halloween costume, printed on a high-quality cotton and polyester men's T-shirt.
You've probably heard the rumors that yeti and Sasquatch walk among us. You probably even shrugged them off as nonsense grocery aisle tabloid fodder. Well, we're here to tell you that you were wrong. The abominable snowman walks among us! He's out there right now, kidnapping elves on the north pole and holding them hostage in little cages for his own unknown purposes. So, beware this Halloween, because one minute you're a free and happy elf, and the next minute BOOM you're off to a cave somewhere with a silent and scary yeti. Or so you can tell everyone that's what happened when you wear this hilarious and ingenious Snowman costume.
Comments
comments