Maxx Action Hunting Series Pistol with Scope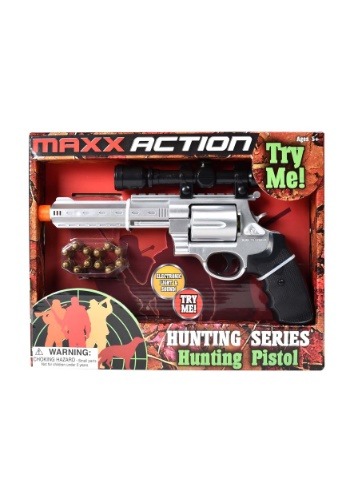 Hunting Imaginary GameWhen you?re hunting the most dangerous imaginary animals in the world, you need to be prepared for anything! You never know when a saber-toothed crocodile while lunge at you from the bushes, or when a razor-clawed land shark will burst out of the ground. Why, you could come across a rabid yellow-gilled river yeti at any moment during your hunting expedition! That?s why you?d better make sure to bring a complete arsenal of toy guns with you to your next pretend pursuit of dangerous game. It all starts with this hefty toy ...
Buy Now
$12.99
Related Products
Stand out from the crowd and complete your costume with one of Smiffy's seriously fun accessories! Perfect for carnivals, theme parties, Halloween and any of your costume needs. Package includes: 1 x Smiffy's Adult Unisex Gorilla Mask, Black, One Size, 24238
Okay, so people in warmer climates might not understand your struggle. But we do, we're from Minnesota for criminy's sake! We know that October can be cold. This makes finding the right costume for your baby hard. You want them to be cute, but as a parent you NEED them to be warm, and happy.That's why we looked all over the world for a costume that was adorable, yet still met your parental needs for your child to be warm in the bitter cold of October. We searched in small shops all over the northern Midwest, and the east coast, the west coast. But we didn't find anything. Sure there were cute things, but not warm. Or there were warm things that weren't cute. Then we heard tell of baby Yetis in Nepal.We just knew that we had found what you were looking for. Hurrying we flew to Nepal, and purchased all the costumes they had. This Abominable SnowBaby Infant Costume is what we came home with. It is the most adorable thing we found on our journey, and it will keep any little SnowBaby warm. It's blue fur will keep your little munchkin fully covered as the October wind chills you to the bones. And you'll be happy for the footies on this suit because it means your baby can't take their shoes off every five seconds!
Custom printed 50% polyester hoodie. Printed in vivid high resolution using our proprietary color transfer technology in the USA. Guaranteed to last through hundreds of washes. Support independent designers through Teespring's product development platform. 100% satisfaction guarantee, 30-day no-risk return policy backed by our live customer service team. Each item is made to order.
Comments
comments