Bigfoot Plus Size Costume for Men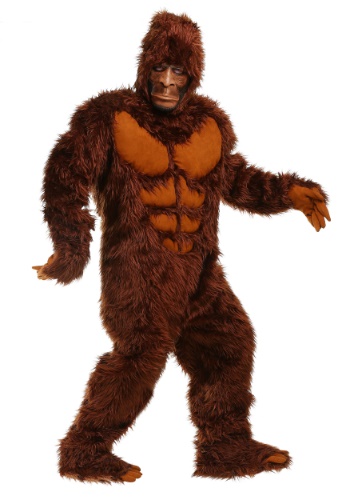 Are you a big foot believer? Well, let's hope you are because according to our extensive research (a full half hour of getting side tracked on the world wide web) if you're not a believer then you're more likely to have a sometimes violent, usually frightening, and always ostracizing encounter with this woodland beast.Now, whatever you do, don't get this guy mixed up with the Yeti, that'll really make him angry and you'd better be sure you have enough beef jerky to placate him! For one, the Yeti lives all the way over ...
Buy Now
$74.99
Related Products
It must be a lonely life for Bigfoot. There can't be many of his kind out there although he's been seen among the mountains, in the flat plains, and even in the rural American mid-west. What animals does he communicate with? We'd imagine the squirrels are way too chatty and the deer would be too skittish to get close to the giant hairy man-beast. Maybe that's why he is sometimes seen stalking the outskirts of farms or lingering near popular trails, he just wants to make a friend that won't take a picture of him and post it on the internet. It's not like Bigfoot doesn't want to be a part of society. It's said that he's made several attempts to get involved throughout history. At the height of the lumberjack era, Bigfoot was spotted log rolling on a river with some plaid clad friends. About a decade later Bigfoot was spotted near that same river, hoeing a vegetable garden while an extremely hairy and long armed toddler played nearby. While no one has reported any sightings from that area since, it's said that, hundreds of years later, many of the locals can grow impressive Auburn facial hair and seem quite tall and ape like. We'll let you draw your own conclusions. If you want to celebrate Bigfoot's social side then you'll love this remarkable ensemble. This jumpsuit has lush brown fur with tough looking chest and stomach pads. The sleeves are finished by paw like gloves with orange finger pads and the shoe covers have padded toes. You'll feel cozy whether you're indoors or wandering through the woods with a furry hood and molded face mask. Now, if you really want to get popular we suggest log rolling. Who knows, you might even get your own ad campaign!
Wouldn't it be magical to travel to the Himalayas? The towering peaks of those legendary mountains hold more mysteries than we basic humans can guess at. Getting into the humongous hills themselves is a miracle. It's beautiful up there, that's for sure. The little, windblown villages hint on the magic beyond the peaks, colorful flags blowing wildly from rocky cairns. Hearty goats peeking down on you from rocky outcroppings. The buildings sit on barren rocks with white washed walls, bright wood work, and gold accents. There's no doubt that the mountains hold secrets. In the thousands of miles of snow covered fields and rock walls, there's no life except the little pine trees and scrubby bushes that grow where the mountains dip into valleys and a bird soaring impossibly high in the sky. No life that you can see that is. Somewhere deep in the wilderness, a legend lurks. It could be a bear from a distance. If you were in a jungle you might think you were seeing an albino gorilla. But no, the Yeti has been ruling the isolated places of the Himalayas for thousands of years and if you come upon this legendary creature we'd run if we were you! This costume makes an unforgettable impression. The cozy jumpsuit is covered in white faux fur. The hands and feet are covered in blue and black rubbery skin with large nails. The mask is sculpted blue sporting a scary snarl. We're sure this isn't what you were expecting when you were taking on Everest but hey, what did we say? The Himalayas have some serious secrets!
This year you can be the most feared imaginary creature there is...the yeti! Simply flip this tee over your head and you are a monster!***Our women's tees are very slim fitting so we recommend sizing up at least one size. Why Choose a Crazy Dog T-shirt? We have searched far and wide for the perfect t shirts for our fans and customers! We believe in making a t-shirt you actually want to wear. You'll notice the quality right when you put it on. All of our tees are screen printed in the U.S. We pride ourselves in high quality and want our t-shirts to be the first out of your drawer every time! The t-shirts have been so popular due to our ultra soft fabric, great fit and awesome designs that we now employ nearly 25 people. We are still a family run business and aim to make sure the customer loves our products as much as we do. When you receive your item, please take a moment to verify that it was not damaged in transit. If there is any reason that you wouldn't rate this as a 5-star experience, please let us know right away and we'll do what we can to make it right. If everything looks fine, we'd appreciate it if you could rate this transaction as your feedback helps our family owned business grow. Sleeve-length: Short Sleeve Material: Cotton Neck Style: Round Neck Size: XXL, S, L, M, XL Color: Grey Measurement Guide Click here to view our Women's Sizing Guide Measurement Guide Click here to view our Women's Sizing Guide All measurements are approximate and may vary by size.
Comments
comments